You will feel like you are flying while sliding on steel ropes at 90 km/h.
JOIN THE ZIPLINE TOUR, EXPERIENCE FUN AND ADRENALINE TOGETHER.
Zipline Park Alanya
Zipline park alanya is the longest and highest zipline track in the region.
TOUR FEE 

 


 1 Adult   

75

 $   




1 Child      

75

 $
* 1 Hour  
(Transport included)
* Anytime between 09:00 – 19:00  
(Exact pickup time is determined by your location.)
* Insurance, transfer from hotel or apartment, tour guide, equipment
* Direct pick-up and drop-off from your hotel, house and apartment with our vehicle
* Drinks and gopro video shoots
ADDITIONAL EXPLANATIONS RECOMMENDATIONS:
* Comfortable clothes, lace-up shoes, sunscreen
Alanya Zipline Experiences
Glide towards the Mediterranean on a 1000 meter long zipline from the foothills of the Taurus Mountains in Alanya.

Watch the whole of Alanya from a bird's eye view while sliding down the zipline track at an altitude of 500 meters.

Reach 60-120 km/h while sliding. Feel the adrenaline with Alanya zipline. When the zipline tour is over, you will start to feel your heartbeat.

Swing into the sky with the 13-meter-high giant swing in Alanya Zipline Park.
You will be picked up from the hotel or address at any time between 09:00 in the morning and 19:00 in the evening.

Access to the Alanya zipline Park at an altitude of 500 meters.

Depending on your distance from Alanya zipline park, the transportation time varies between 15 minutes and 40 minutes.

On the zipline track, the guides inform you about the zipline. They answer your questions.

Before starting the Zipline, you can swing towards the sky with the 13-meter-high giant swing in Alanya Zipline Park.

Clothing is checked.

Your belongings that should not be with you during the zipline are kept to be delivered to you at the end point.

Necessary equipment for the zipline is worn.

You slide along the 1000 meters zipline from 500 meters height

Your speed depends on your weight. Average speed is 90 km/h. The speed ranges from 60 km/h to 120 km/h.

You are greeted by staff at the finish point.

Your video taken during the zipline is prepared and delivered to you.

From the zipline end point, you will be dropped off by shuttle vehicles to your place of stay in Alanya.
There are just a few things you should pay attention to.
Never jump off the platform until you are instructed.

Strictly follow safety briefings.

Do not participate in the zipline activity if you weigh over 110 pounds or have a heart condition.
Zipline Tips for First-Timers
Wear lace-up shoes. 

 You don't want your slippers to fly into the woods.

Choose comfortable and loose clothing. 

 Having your body in a free position on the zipline belt increases your comfort.

Empty your pockets. 

 During the zipline, your belongings may fall out of your pocket.

Use sunscreen and insect repellent. 

 After all, you are in the forest. You don't want to struggle with tiny flies.
General Information About Alanya Zipline
Zipline is an action and adrenaline-filled activity that allows you to slide on steel ropes stretched between two points, usually with a belt or seat.
It was first used to transport supplies from one place to another in the Himalayan and Alpine mountains in Costa Rica. Over the years, it has become popular, developed and become a form of entertainment.
Today, zipline is a growing outdoor activity worldwide. In Alanya, the longest track is at the Alanya Zipline Park facility with 1000 meters.
How to Zipline?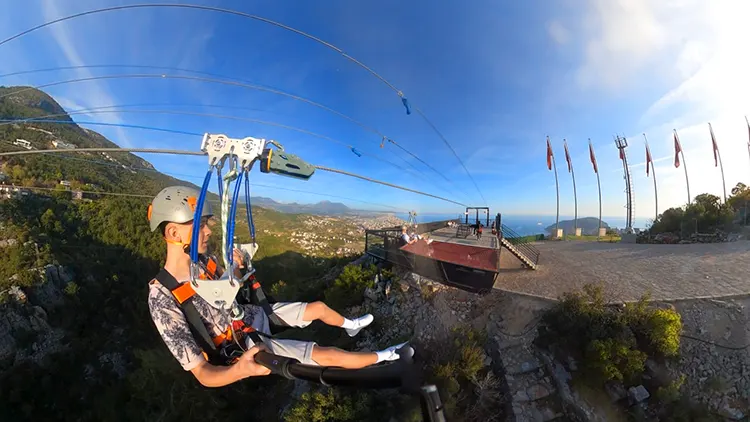 Simply put, it is made by sliding downwards by taking advantage of the slope between the two points where the steel rope is attached. Thanks to the pulleys, the amount of friction is increased while sliding. Thus, the speed can be reduced.
There are factors that affect the maximum speed. These; the weight of the person, the slope of the rope and the length of the rope, and the structure of the rope.
When is the Best Time to Zipline in Alanya?
Alanya is suitable for ziplines during all 4 seasons. On average, it is cloudy only 50 days a year in Alanya. Also, it does not snow in winter.
The most enjoyable time to zipline in the summer is at sunset. The weather is not overly hot and the scenery is quite impressive. The sea and Alanya Castle can be seen easily from the zipline track.
In winter, we recommend that you choose lunch hours to participate in the zipline activity in Alanya.
Is Zipline Safe in Alanya?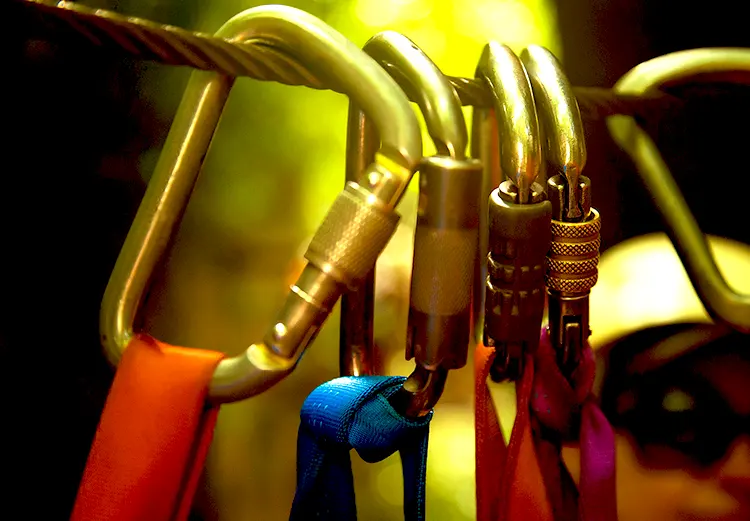 The zipline is extremely safe as long as there is a zipline track made to appropriate standards and expert personnel. The zipline line should not be too old and up-to-date controls should be done constantly.
The good news is that  Zipline park alanya  is a facility that started operating in 2022. All track equipment has been selected considering world standards. Alanya zipline track was designed by competent engineers. In addition, the owner has 12 years of zipline experience. The staff has been carefully selected.
In short, you don't have to worry about a zipline trip in Alanya. Now there is a zipline park in alanya.
If you are excited because of speed and height, rest assured that in the first few seconds all your fears will disappear and will be replaced by joy and adrenaline.
Features of Alanya Zipline Track
Although tourism activities have been carried out in Alanya since 1990, a good zipline track had not been opened. A few entrepreneurs operated a zipline track in the 2000s, but they were not successful because their tracks were too short.
In 2022, a zipline enthusiast showed a successful entrepreneurship example and opened the facility called " Alanya Zipline Park ". It is a good zipline track in terms of location, track quality and ease of transportation.
Alanya zipline park was opened in May of 2022. Therefore, all the track and all the equipment used in the track are new.
We can list the features of the track as follows.
Being a world class and new facility.

500 meters altitude.

1000 meters line length.

Being in the forest.

Being able to see the sea and Alanya while gliding.

In addition, the presence of giant swing activity.

Ease of transportation from Alanya.

Availability of free transfer service for Alanya and its surroundings.

You can participate in the zipline activity at any time you want. (between 09:00 and 19:00).

Gopro video footage for all guests.
Where is Zipline Park Alanya?
It is on the slope of the Taurus Mountains in the north of Alanya. It is in a forest area. It is approximately 8 kilometers from Alanya.
Although it is easy to access, the mountain roads are rough. That's why we recommend you to take advantage of our free transfer service, even if you have your own car.
Distance from Alanya Center to Alanya Zipline Park:

  8 kilometers (approximately 15 minutes).

Distance from Konaklı to Alanya Zipline Park:

  19 kilometers (approximately 25 minutes).

Distance from Türkler to Alanya Zipline Park:

  24 kilometers (about 28 minutes).

Distance from Avsallar to Alanya Zipline Park:

  29 kilometers (average 31 minutes).

Distance from Incekum to Alanya Zipline Park:

  33 kilometers (approximately 35 minutes).

Distance from Okurcalar to Alanya Zipline Park:

  35 kilometers (average 38 minutes).

Distance from Mahmutlar to Alanya Zipline Park:

  17 kilometers (about 26 minutes).
Who Cannot Join the Zipline Tour?
The minimum age for children is 6 years. In addition, children must weigh at least 30 kilograms.

For adults, the maximum weight should not exceed 110 kg.

Those with various orthopedic disorders, lumbar hernia or neck hernia cannot slide with the zipline.

Also, vertiogo and epilepsy patients should not ski with the zipline.

Pregnant women are not allowed to slide in Alanya Zipline Park  .
YOUR OTHER ZIPLINE OPTION.
Rafting + Zipline
  Double Economic Package from Alanya
A 350-meter zipline track that starts from the Taurus Mountains and ends in the cool waters of Köprüçay.
You will feel like you are flying with the zipline that starts from the Taurus Mountains and ends in the cool waters of the Köprülü canyon. The zipline line length is 350 meters. While sliding, you reach a speed of about 60 km/h. At the end of the track, you can slow down safely by reducing your speed with the automatic braking system. It will be a pleasant experience to finish the track by leaving yourself to the cold waters from high.
It is a combined and economical tour that includes zipline activity in Antalya Köprülü Canyon National Park, where you will witness the magnificent landscapes where you will experience both rafting and high adrenaline in the wonderland of nature. Don't you want to have more fun while you've gone that far on this one-day tour? And by paying less.
Zipline is the sport of sliding with its own weight with steel rope or ropes stretched from a high point to a lower point. You don't need to hesitate because safety measures such as brake system, seat belt, safety harness, helmet, steel rope, extension rope, carabiner, pulley are quite robust. The length of the track is 350 meters. The track was built by considering world standards. All safety precautions have been taken
This economical package has included the extra zipline sport in the Alanya rafting tour program and experiences.
Transportation to the station in Köprülü Canyon by being picked up from the hotels by shuttle vehicles.

Distribution of rafting equipment.

Access to the rafting starting point by shuttle vehicles.

Supply of rafting boats, explanation of general rules and training.

First rafting track execution.

Selge Ancient Bridge visit and photo break.

Waterfall walk, swimming break and water activities.

Lunch break.

Second rafting track execution.

Briefing and preparation for the zipline.

Getting to the starting point of the zipline and its execution.

Transportation to the cafe at the finish point. Viewing the captured photos and videos.

Recovery and return to the hotels with shuttle vehicles.

See Köprülü canyon panoramically with the zipline.

Take photos on the historic Selge Bridge.

Participate in water activities and waterfall excursions.

Participate in rafting and zipline activities in a single tour. Save both time and price.
No Credit Card and No Prepayment
From Chat Programs Instant Booking
SAPADERE CANYON JEEP SAFARI RESERVATION FORM
Sapadere Canyon form for Jeep Safari Please fill in completely.