DISCOVER ALANYA'S UNDER SEA!
 Touristic Submarine Trip in Alanya with Nemo Primero
A submarine in the comfort of home with its high ceiling distance and wide windows.
TOUR FEE 

 


 1 Adult   $ 

50




 1 Child      $ 

25
*3 Hours  
(including transportation)
* 09:00 – 14:00 (Organized twice a day)  
(Exact pickup time is determined by your location.)
* Direct pick-up and drop-off from your hotel, house and apartment with our vehicle
* Shopping from Nemo cafe, underwater photos taken by divers
ADDITIONAL EXPLANATIONS RECOMMENDATIONS:
*Camera, comfortable clothes
Alanya Submarine Tour Experiences
You can make a difference to your holiday by traveling underwater in the Mediterranean with a submarine.

You can see the atmosphere and creatures under the sea without effort and without getting wet.

You will have extraordinary photos taken by divers looking through the submarine window.
Alanya Submarine Tour Program
Hotel pick-up and arrival at the port.

Briefing on general rules and things to know before diving.

Catering from NEMO Café.

Start your submarine tour.

Visit to the rich underwater flora and fauna.

Having your photos taken by divers.

Fishman shows.

Return to port.

Selection of photos taken at Nemo cafe.

Back to the hotels.
General Information About Alanya Submarine Tour
If you want to add a different experience to your holiday, you should definitely try the submarine tour. There are only 7 touristic submarines in the world. It is a tour that you cannot easily find in other holiday centers.
The submarine tour is done twice a day. Transfers from hotels are included in the price. The tour takes 3 hours including transfer, information and diving. The total time you will spend underwater is 1 hour.
During the 1-hour underwater tour, we take you to the richest underwater areas of Alanya. Under water you see statues, amphorae and the underwater world of the Mediterranean. In addition, divers will offer various underwater shows for you.
Since the Mediterranean is a salty and warm sea, it is not a sea with a great diversity of flora and fauna. Please do not compare the Mediterranean with the Red Sea.
Nemo Primero Submarine Features
Made in Finland in 2015. It has up-to-date security systems. It contains a backup of all the equipment on the submarine. It has high maneuverability. It is environmentally friendly. It works with electrohydraulic motors.
Touristic Submarine Features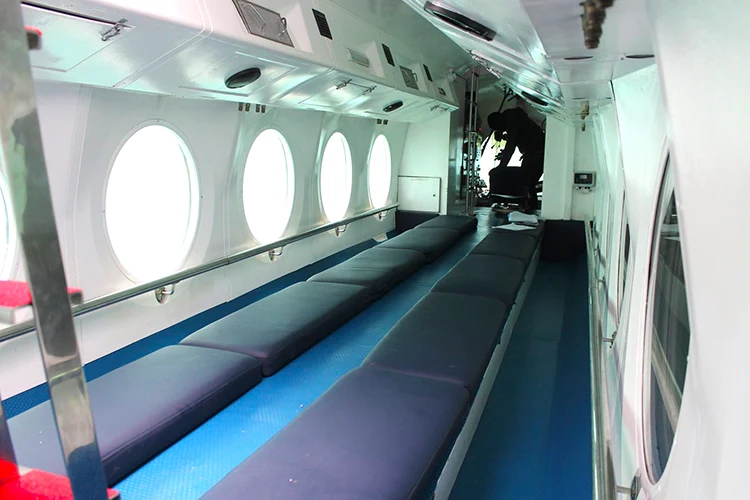 Unlike a standard submarine, the Nemo primero was built with the comfort and safety of passengers in mind. We have listed the features of our touristic submarine below.
There are six observation windows on the right and left of the submarine.

It has large windows to provide a wide field of view. The dimensions of the windows are 80 centimeters in diameter.

Thanks to the air conditioning system and air reinforcement tanks, the temperature, humidity and oxygen quality inside are kept constant.

Thanks to its pressure stabilizing feature, you will not feel pressure or hum in your ear.

The interior cabin has been made high, considering comfort and people with claustrophobia.
Technicial Specifications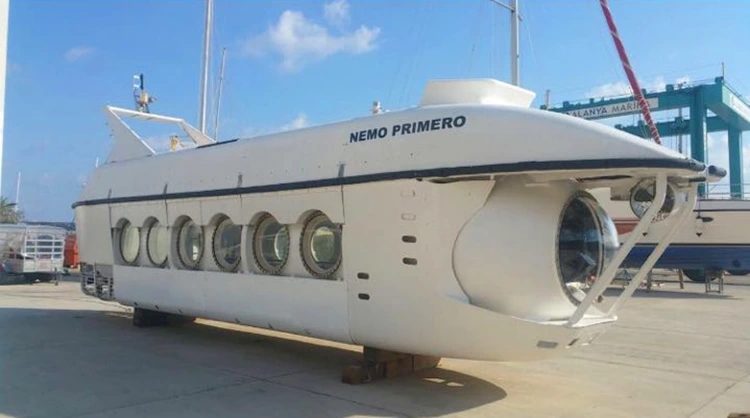 Nemo primero has a crew of 2 and a passenger capacity of 22 people. Thanks to its high battery capacity, it can stay under water for a long time.
The submarine has a width of 2.4 meters, a height of 4.75 meters and a length of 13 meters.

It can stay under water for a long time thanks to 300 pieces of lead-acid batteries.

Underwater speed is 3 knots and above water speed is 4 knots.

Working depth is 30 meters.
No Credit Card and No Prepayment
From Chat Programs Instant Booking
SAPADERE CANYON JEEP SAFARI RESERVATION FORM
Sapadere Canyon form for Jeep Safari Please fill in completely.